The #1 Minimalist Automatic Litter Box
ChillX AutoEgg Self-Cleaning Litter Box
Sale price Price $399.99 Regular price Unit price / per
How Does It Work?
Thanks to the four purrcise weight sensors with a 0.03 oz accuracy, the AutoEgg performs an automatic self-cleaning 5 minutes after every bathroom trip.
The ChillX AutoEgg will work for cats as small as 4.4 lb. and cats as large as 15.4 lb.
What about the kittens? Won't somebody please think of the kittens? We do!
The AutoEgg performs an additional self-cleaning four times every day at 3 & 9 am/pm all on its own. So for kittens less than 4.4 lb we've got you covered!
The AutoEgg was designed for a single cat family; however, we can accommodate up to two cats per unit.
Quieter Self-Cleaning
Gone are the days of loud rattles and noisy rotating automatic litter boxes.
The ChillX AutoEgg uses an advanced motor and mechanism technology to provide the quietest clean possible.
The AutoEgg gives you the assurance of a clean space and a silent job well done.
Safer Self-Cleaning
Your cat's safety is our number one priority.
Different from traditional rotating devices, the AutoEgg provides a safer and slow horizontal rake cleaning to avoid the risk of trapping your cat or their tail. Don't let this cat-astrophe happen to your pets!
As soon as the AutoEgg Cat-Stuck Prevention sensor detects any sudden movement the self-cleaning process will pause.
Additionally, the AutoEgg cleaning rake is designed to work at a slower speed (5 minutes per cycle) to avoid any potential harm to your cat.
But wait there's even more! Because we care about your furless babies too! The 5V/2A USB Type-C input power ensures safety for both your cats and your kids.
Deeper Self-Cleaning
The ChillX AutoEgg self-cleaning system is so good. 
Our unit includes both the 70-degree cleaning rake and the zigzag litter tray!
What that means for you is a dependable clean and minimal tray residue.
You might say it's the cat's meow!
Health Log & Alert
At ChillX we care about your cat's health!
The AutoEgg's touchscreen display records a health log of the date, time, duration, weight, and waste data after every use.
For abnormalities such as waste weighing less than 0.18 oz, the AutoEgg will flag and record the bathroom trip in red.
Keeping an eye on their health log and alerts gives you the confidence of knowing your feline friend is healthy and happy.
*Example log display for two cats 
Saving You Money
Other automatic litter boxes can run you hundreds per year for disposable trays, waste drawers, filters, and other costly accessories.
But with the AutoEgg a waste drawer liner is the only disposable item you'll ever need!
You can use any plastic bag from home or even go green with our 100% biodegradable liners.
Wanna go even greener? The AutoEgg only consumes 1 kWh of electricity per 500 cleaning cycles.
We pride ourselves on a superior technology and design to provide you with a reliable and long-lasting clean for years to come!
No Fancy Litter Needed
The AutoEgg does not require any expensive types of litter!
We work best with the most common hard-clumping clay cat litter with smaller particles.
Some of our favorites are Tidy Cats Instant Action (for better clumping) and 24/7 Performance Litter (for better odor control).
*There's no universally "perfect litter" because of varying cat needs and behaviors.
Superior Dust & Odor Control
Compared to the traditional rotating systems, the AutoEgg's horizontal rake performs a gentle and dust-free clean every time.
On top of that, the AutoEgg swiftly traps waste in an enclosed drawer after every use, helping to minimize odors fast.
No clawful smells for you or your guests!
Compact and Lightweight
The compact and comfortable design of the AutoEgg will fit perfectly anywhere in your home!
Our unit is 30.3x18.1x17.7 in and only 11 lb.
Making the AutoEgg light enough to place and roomy enough for your cat to move around. No danger of clawstrophobia!
The large 2L waste drawer holds up to one week of clumps per cat. Meaning you can sit back and relax between liner changes!
Fast Adoption
Cats are the superstars of curiosity and take well to the uniquely arched design of the AutoEgg.
Nobody likes to be disturbed while doing their business, so the AutoEgg respects your cat's privacy with a hooded design they'll love. (Pawsome, another box to be in!)
Additionally our tracking pad height is only 6 inches off the ground, making it low enough for even our kittens and senior cats to step in with ease.
Check out our FAQ section for more tips and tricks on how to help your cat adapt to the AutoEgg!
Minimized Litter Tracking
Fluffy cat paws are adorable. Dirty cat paws tracking all over the house? Not so much.
Thanks to the enclosed hood and the cellular tracking pad, the AutoEgg helps to minimize any litter leaving the unit.
Making sure we take care of the cleaning so you won't have to!
Easy Setup
You'll receive your AutoEgg fully assembled. That's right, no hassle!
Just find a firm and flat surface, pour your litter, enclose the hood, plug us in, and your cat's new favorite litter box is ready to go!
Quick Cleaning & Reassembly
Does your AutoEgg need a deep cleaning?
You're in luck, the ChillX AutoEgg only takes about 60 seconds to disassemble.
Wait, what's a deep cleaning exactly?
A deep cleaning is a full washing all the important parts including the litter tray, waste drawer, cleaning rake, and the tracking pad.
Check out our disassembly walk-through video here! 
*To make the reassembly much easier, we've left minor gaps between parts on purpose. If you see some litter in the AutoEgg base, don't worry, it's normal.
A Sleek and Modern Design
Automatic litter boxes tend to look bulky and out of place in most homes.
The AutoEgg was designed with a minimalist and compact aesthetic to compliment any space beautifully.  
It's an instant modern accessory to your interior design!
Happier Cats
Every cat deserves a clean space to do their business. We like to make sure their litter stays sanitary and clump free. No more stepping on poop to... poop (hey, you'd hate it too).
The AutoEgg is made of a high-quality germ-resistant ABS/PP shell to reduce your cat's exposure to toxins they may track around the house.
Functional, purrty to look at, and comfy for your cat. Your majesty approves, and so should you!
Limited Edition Just In!
Looking for a pop of color?
Uplift your home with our all new pastel pink and cloud blue colors! (While supplies last)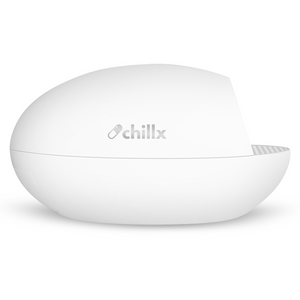 ChillX AutoEgg Self-Cleaning Litter Box [Reconditioned]
Sale price Price $399.97 Regular price Unit price / per
The Most Purrfect Gift Ever!
Let's be honest, nobody likes to scoop. Help take the load off with a litter box that can do the work for you! The AutoEgg is the perfect gift for your family, friends, and feline companions!
Unboxing & Quick Start Guide
Let verified customers speak for us